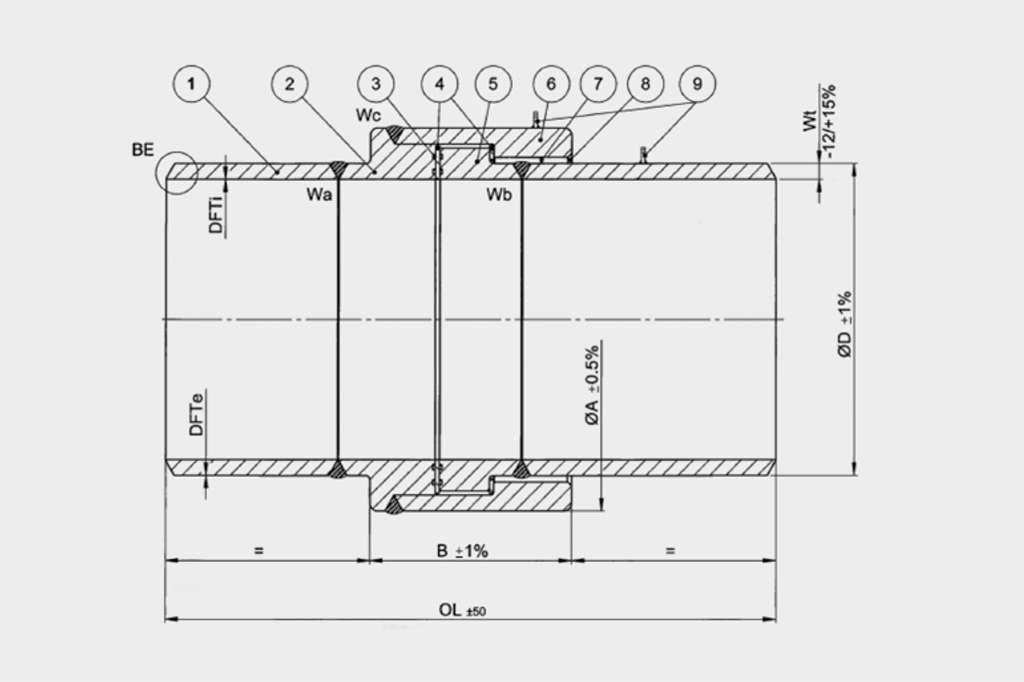 Monolithic Insulation Joint, your great electrical isolation device among sections of pipelines!
Carrara's product range grows again and this time includes the Monolithic Insulation Joints which are designed, manufactured and tested at our HQ in Adro - Brescia, Italy – and have a size range 2" ÷ 36". The Monolithic Insulation Joints Carrara are strictly assembled in accordance with the requirements of the main international rules and can be customized according the the Client's specifications.
Main codes/standards/rules including all appendixes and revisions applied for designing, manufacturing and testing the Monolithic Joints
ANSI B16.5 - "Pipe Flanges and Flanged Fittings"
ANSI B31.8 - "Gas Transmission and Distribution Piping System"
ANSI B31.4 - "Pipeline transportation system for liquid hydrocarbons and other liquids"
ASME B16.25 - "Butt-welding Ends"
ASME V - "NDE"
Some technical details
The purpose of insulating joints installation on gas and oil pipelines is to ensure electrical isolation among sections of pipelines and prevent detrimental electrochemical interaction among the sections themselves. Insulating joints are also used to ensure effective current spreading on cathodic protection systems. The insulating joint is suitable for installation either under, or above ground and it shall be installed on pipeline by means of girth welding it between two sections of pipeline itself.
The high insulation resistance is assured by three different parts of the Monolithic Joint. First of all the insulation gasket which prevents the metal-to-metal contact across the internal flanges, second the internal cavities filled with an high dielectric strength compound which prevents the dielectric arc across the collar and the pipe pup. Finally the internal and external surfaces are coated with a non-conductive epoxy paint.
The Monolithic Isolation Joints are boltless and completely assembled in the factory in order to be ready for the on site erection
All welds are butt weld construction and the dielectric isolation is warranted by a thermosetting fiberglass epoxy gasket (GRE)
The surfaces, interior and exterior, are coated with two or more epoxy paint layers with a final thickness of 150÷450 µm to within 50 mm of each pup's end
The sealing between the internal flanges is warranted by two O-ring
The standard testing are Electrical (5000 V (AC) at 50 Hz for 1 minute, 1÷25 MΩ, (1000 V DC MEGGER), Hydraulic (1.5 x O.P.) and Weld (Ultrasonic/Magnetic Particle)
Other NDT tests are available on demand