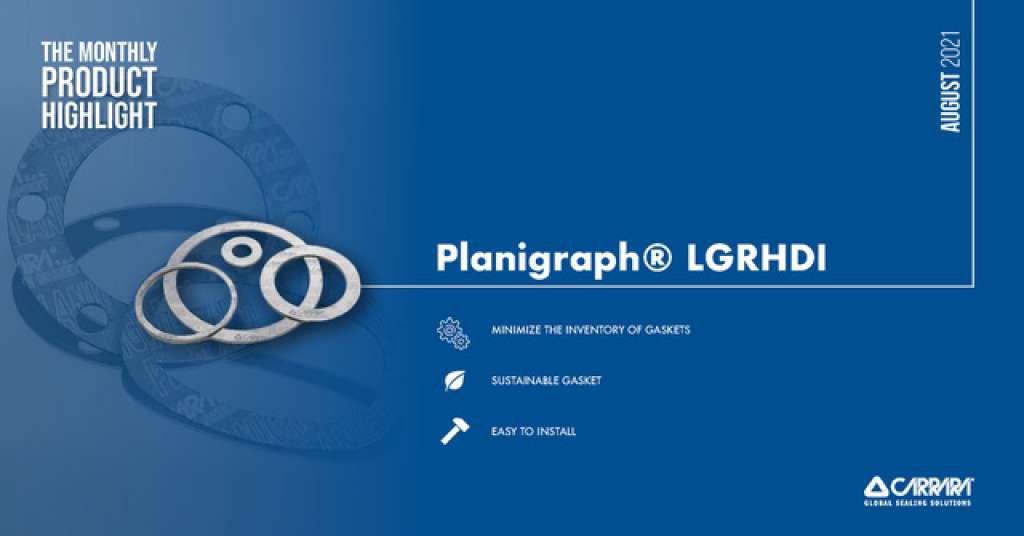 Planigraph® LGRHDI, just one gasketing sheet for operating pressure from vacuum up to 200 bar
Planigraph® LGRHDI is the multilayer high-strength graphite gasketing sheet designed both for the hard applications and the ordinary sealing of low pressure flanges thus allowing the End Users to fit a large set of equipment just with one reliable and safe material that complies their gaskets requirements.
Planigraph® LGRHDI is manufactured by Carrara and combines layers of graphite foil with stainless steel foils. This is the reason why the blow-out resistance and the mechanical strength are enhanced allowing for the greater permissible gasket stress that can be achieved.
Even under gradient of temperatures or frequent thermal cycles Planigraph® LGRHDI can guarantee long term stability and recovery as well as a negligible cold or warm flow up to the maximum permissible gaskets stress.
Planigraph® LGRHDI offers a good chemical resistance, doesn't age and doesn't embrittle, guaranteeing high reliability for long time from -200°C up to 550°C.
Properties and Applications of Planigraph® LGRHDI
Suitable for standard and customized flanges of pipe-works, vessels and valves
The gaskets larger than 1500 mm are manufactured in two pieces with a special technique to guarantee maximum reliability
Suitable for chemical, petrochemical, refinery and power generation industries, with fluids and gases in the whole range of the pH, except the strong oxidizers, operating in the temperature range from [-200°C; 550°C] with the pressure from Vacuum to 200 bar.
Great gasket stress associated with a negligible relaxation stress even in case of frequent thermal cycles without aging or embrittlement
Low emission gaskets design when fitted with the inner eyelet
Seal your flanges with Planigraph® LGRHDI: three reasons for the right choice!
Minimize the inventory of gaskets - this solution is suitable for a large set of flanges because it can work almost with all fluids in a large range of temperature and pressure
Sustainable gasket – its configuration with inner eyelet associated to the negligible cold or warm flow guarantees low emissions for long time
Easy to install - its maximum permissible stress is so high that even in case of overload caused by an imperfect assembly the gasket cannot be damaged